September 2006 – April 2007, DCR Den Haag
Open studio 17 februari 2007
Participating artists: Ellen Rodenberg, Hans Ensink op Kemna, Maarten Schepers, Kees Koomen
In May 2006 these four artists organized their first exhibition together. This initiative came forth from their desire to show their work together for a number of times in differing circumstances. On the basis of mutual appreciation for their artistic work and for each other's mentality the question arose in which way the rather diverse bodies of work would relate in exhibition spaces of different nature. After the first occasion in the DCR, which had been satisfying, the four artists decided to start doing research in a joint studio. In this way they created a platform to debate, work and eveluate the way their work would develop. Here they prepared concepts for exhibiting in different venues where they could see in what way their art would relate under varying circumstances. In this project-room in the cultural "broedplaats" (breeding place) DCR in Den Haag they have been busy to bring alive their ideas about collaboration and about how you can react on different spaces together. In the presentation in February they showed an "open laboratory", an installation in progress!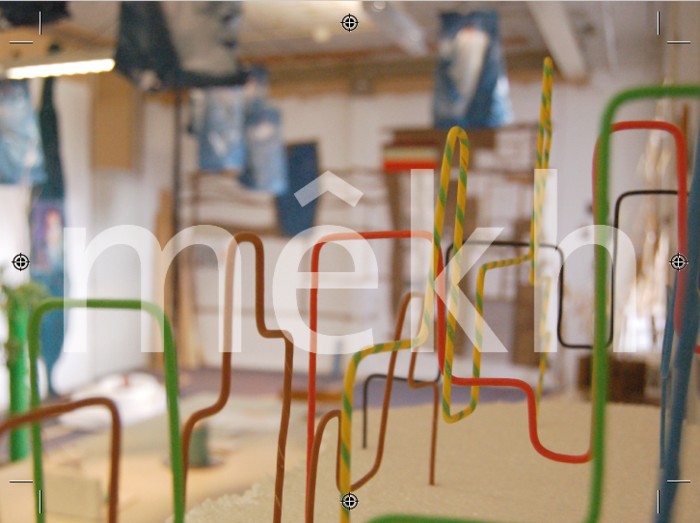 In the period we worked in the process-space we discussed each others work, we showed new work and talked about how we could put our work together. We also discussed the venues we were looking for to exhibit: what kind of spaces would we like and how would we approach the situation. We decided that it would be exciting to look for all kind of different spaces with different objectives: commercial galleries, alternative spaces, musea, municipal exhibition spaces, artists collectives, public space. The different kinds of public, social background and architecture would lead us to concepts we would apply to the exhibitions we would make.
Lots of discussions were spent on how we would combine our work, would we be able to interfere with eachothers work? Where would we be able to enforce eachothers work in the situation we would find ourselves in? We did a lot of try-outs in the process space of which you can see some in the carousel underneath.