May 19- June 3, 2012
Quartair Contemporary Art Initiatives, Den Haag (NL)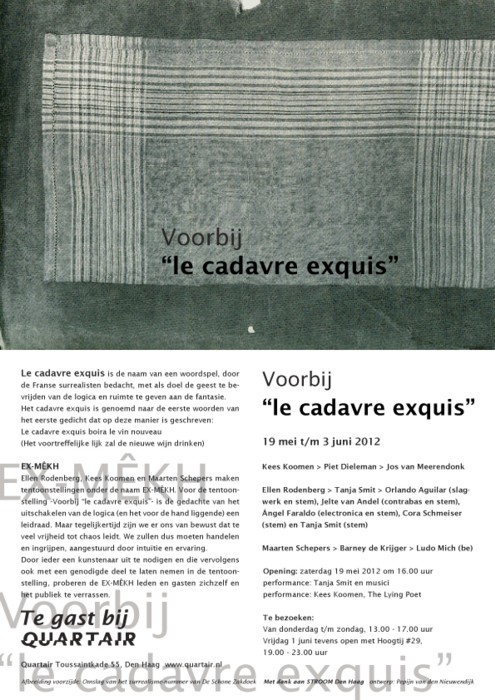 "Le cadavre Exquis" is the name for a word-game which was invented by the French surrealists. It's intention was to free the mind of logic and to make room for creativity. This game was named after the first words of the first poem that was written in this manner:
"Le cadavre exquis boira le vin nouveau`
( The exquisite corps shall drink the new wine)
During the past years the artists of EX-MÊKH felt an increasing need to analyze the influence on their individual development by the collaboration within the collective . Recently they reported on that on the occasion during Re:Rotterdam with their show "Solo EX-MÊKH". In the present exhibition EX-MÊKH confronts the individual artworks with each other without foreknowledge or discussion. They will do this in a way similar to their first presentation in the DCR building in Den Haag in 2006. Next to that they choose examples from the "Umwelt" each of them separately inhabits: for this exhibition all three invite a colleague they feel related to. In their turn the invited artists will also get an opportunity to introduce their context by inviting another artist.
This exhibition looks like the surface of water after some stones have been thrown in to it: a number of expanding circles will collide, new circles develop and the whole will show a dynamics of dialogue or isolation. The consequence of this concept is that the initiators of the show have only limited influence on the resulting exhibition. On the other hand the result may show insights which can be the beginning of new developments in EX-MÊKH or the introduction of new elements in the individual artworks.
The idea of the "Cadavre Exquis" was once a subconscious point of departure for the first manifestation of EX-MÊKH. After a number of exhibitions the artists want to confront unknown elements with the quality of the collaboration they have achieved. The choice of guest-artists is based on the attitude to their work and to their practice. No specific works or themes have been asked for: the invited artists are free to decide on their own considerations.